supercharging innovation at vueling airlines in barcelona
from 2018 until 2020, i had the opportunity to build a kick-ass innovation team with techies, service designers, and bizz-people from a wide variety of backgrounds and nationalities. together we rocked it.
i am super proud of all of them and everything we accomplished. it has not always been easy, but every setback just made us stronger and stronger. my greatest joy was to see every team member grow and unlock their hidden rebel talent.
this assignment was simple, yet not easy: design, build and launch innovative new solutions and take vueling airlines to a new level of success. furthermore, stimulate intrapreneurship to grow the culture of innovation across vueling airlines.
watch this 3-minute video for a short explanation of our approach to innovation. includes an explanation of the three-horizon framework and showcases some real examples we worked on.
horizon 1: keeping our feet on the ground
with service design, we put the customer at the heart of our innovation strategy. we used tools such as service mapping the current state to create a holistic view of key topics, such as the airport experience, hand luggage, and ancillary revenues. the service designers were a significant part of their time out in the field.
the techies in the team were always experimenting and testing new things. they created several prototypes of services and products we envisioned to be relevant in the future. also, we collaborated with start-ups and companies to integrate their services into the vueling offering.
horizon 2: connecting the future to the now
at the same time we worked on the future with service blueprints and envisioning the future vueling experience. this helped a lot to create a better understanding of the more holistic future view – what would change and what stays the same – and get the rest of the organisation on board. see below two examples: the airport experience 5 years from now (left), and our vision on personalisation (right).
horizon 3: having our heads in the clouds
our team was asked to think far beyond the current core business. we used a tool called 'reframing' to help us to open up and expand our horizon. as a starting point we took vueling's 2018 vision and identified the four strongest beliefs that were supporting this vision. then we flipped each of these beliefs and based on these we were able to reformulate vueling's vision. this helped the team a lot to come up with new concepts and business model.  
besides getting results we also made sure to create a context where innovation could thrive – both internally and externally. a place where people just could feel the energy. we organised pop-up demos by hacking the canteen to showcase the work of the innovation lab. our colleagues loved it, and we got a change to get some great first feedback on our prototypes. we also visited many events, where we not only shared our work but also actively engaged people in our service blueprints and prototypes to better understand their needs.
and there is so much more to tell about this 2-year adventure in barcelona. flip through the booklet to feel the energy and get an even better impression of our approach to innovation.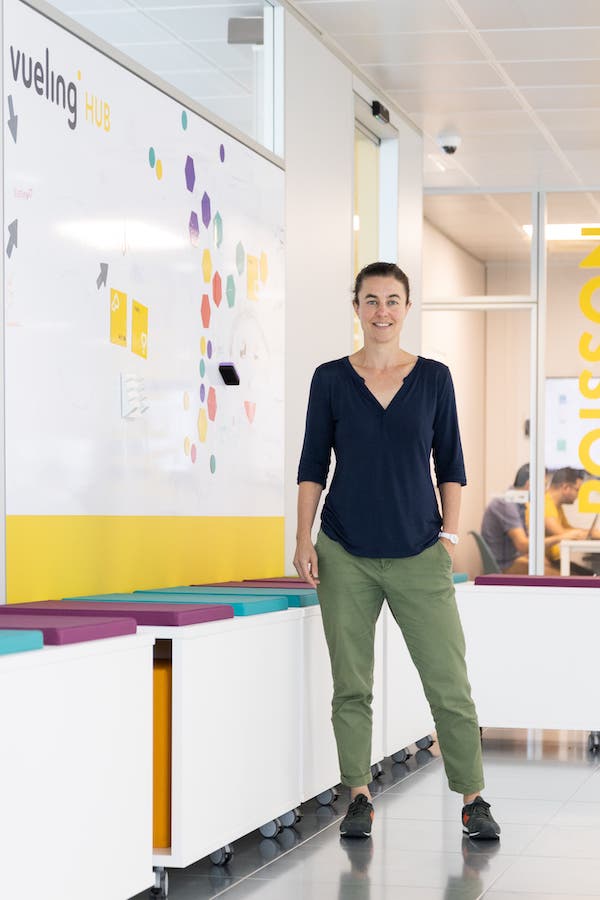 although this is an example of an airline, the frameworks and tools can be applied in any kind of industry or organization.
curious to hear more about my approach and want to explore how we could collaborate?