facilitating an energizing full-day workshop with SUNEXPRESS' entire commercial team (120 people)
SunExpress approached me to design and facilitate a day full of energy and inspiration with their entire commercial team. the goal of the day was to celebrate their successes with all of the 120 people on the team and let them dream about the future.
first, opening up the minds ...
we started the day with an interactive keynote speech of 100 minutes. i touched upon various key innovation mindsets by sharing practical, fun, real-life stories. after each theme, they reflected in small groups on how well they were doing themselves. after this keynote, they were fired up and ready to go for the afternoon.
... and experiencing a different mindset
during the keynote, there were also a few "eye-openers". these are short experiential learning games to let people experience a different mindset with their bodies. 
then, identifying the boldest ideas in the room ...
just after lunch, we did an interactive exercise to identify the 10 best and boldest ideas in the room in just 15 minutes.
but how do you do that with 120 people in the room?
... managing the energy in the room ...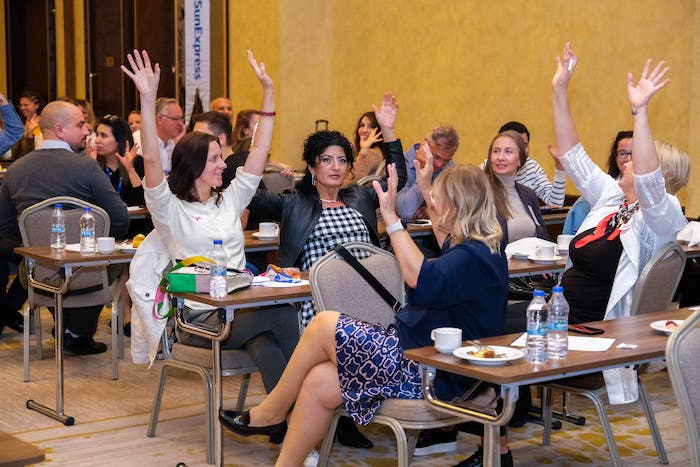 when there are so many people in a room, at times the energy just buzzes around. so, how do you get everybody's attention without screaming?
by asking everyone to join me waving their hands up in the air in silence. every time, the room got quiet in just seconds. 
i find it extremely important to make sure the day is fun too and that everyone enjoys the ride, including myself : )
finally, ideating and creating new business concepts
we finished the day by letting teams work on the 10 best ideas in the room. with different kinds of tools, each team came up with a new business concept and presented it in just one minute. 
this day was highly successful from many different perspectives. not only was the result twenty new business concepts. also, there were many new connections created as not everyone on the team already knew each other. their minds are more open to innovation and they learned some practical tools they can apply in their everyday life. lastly, we had a fun day together!
i design tailor-made workshops and training to energize and inspire your team – from small to large groups. also, i have a lot of experience in facilitating workshops to create alignment and acceleration on a multidisciplinary topic.   
curious to learn more and want to explore how we could collaborate on energizing and inspiring your team?