empowering employees at KLM royal dutch airlines
during my corporate career at klm royal dutch airlines, i have had many different roles. most of the time i also had some side initiatives running to satisfy my urge to make things better. almost always, i worked on solving long-lasting problems and for that, i had to build multidisciplinary teams to cross many silos within the organization. the key to success in each and every initiative was empowering employees. here you can read about three initiatives that i am super proud of. 
2010 - 2011:
achieving great sustainable & financial results by leaning KLM's laundry logistics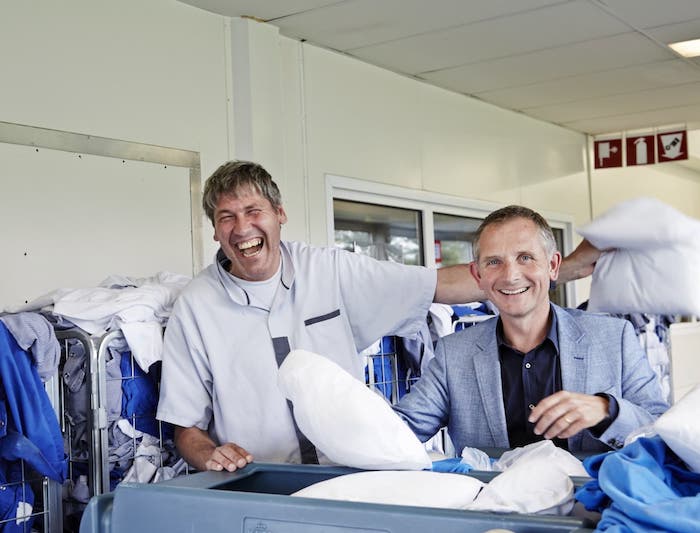 around 2010, i was responsible for the logistics of all of KLM's catering and board supplies at schiphol airport. yearly, we are talking about 5 million pillows and 5 million blankets, and thousands of uniforms and overalls. 
i quickly discovered that the supply chain of all textile-related items – blankets, pillows, napkins, overalls, uniforms, etc – was not operating optimally. almost every item had its own logistics and was managed accordingly, leading to a scattered landscape of management responsibilities and lots of waste everywhere.
within the entire supply chain, a little less than 300.000 kilometers were made every year. more than ten different KLM departments from various divisions were involved, making the decision process not so easy 🙂
i started to build momentum to change this. together with colleagues from many different KLM departments and an innovative supplier that excels in corporate responsibility, we developed a bold and ambitious collaboration.
with so-called 'lean-sessions' we evaluated the entire supply chain and found many solutions to improve it. 
we created a long-term vision and managed to get a 10-year contract with our supplier Lamme Textielbeheer, which was highly exceptional within KLM. our partnership was based on trust and both parties would benefit from future process improvements. this was – and still is – a great stimulus to keep making things better. 
our supplier Lamme Textielbeheer works closely with an organization that helps people with a disadvantage in the labor market. watch this video of Jan Lamme in conversation with one of his employees about the work in the new laundry facility we have built at Schiphol-Noord.
curious to learn more about the approach and all the positive results we achieved, such as how much CO2 reduction we realized due to a decrease in the logistics? flip through the booklet to get an impression of our approach.
2012 - 2014:
KLM's rebel team breaks the deadlock and makes a huge impact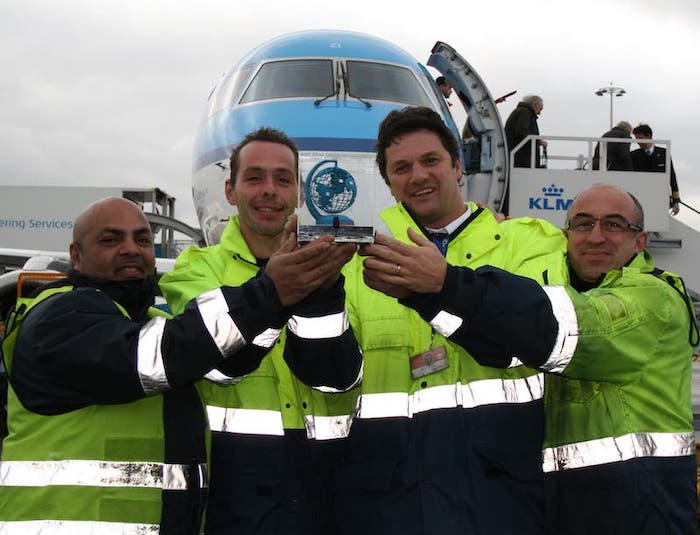 KLM operations and commercial could not agree on how to shorten the aircraft turnaround time without increasing the costs. the topic was in a deadlock situation for years and landed on my desk after the great results i achieved with leaning the laundry process (see story above).
this was the start of a never-to-forget adventure. i created a team of rebels, people who daily worked in the different processes of the turnaround. after thorough preparation, we 'locked ourselves up' in a room for four days. we mapped out all 14 processes that were part of the turnaround. every issue was captured, and after prioritizing these, we ideated to find solutions for each of the priorities. with these ideas, we designed a new process, which we presented to the involved management, including KLM's board of directors.
30% decrease of turnaround time
we managed to decrease the turnaround time from 50 to 35 minutes. watch the video and listen to rob kieboom, one of the team members whose daily job is to coordinate all activities on the ramp during a turnaround, such as the loading and unloading of the luggage, who explains how we did it.
on paper our new design looked great, but would it also work in practice? we tested a lot of turnarounds to fine-tune our design. the first official turnaround? we did it in 27:45 minutes! it worked and there was still some slack in the schedule to recuperate minor issues.  
we were aiming for this …
… during test period often it looked like this …
… and finally, we succeeded!
super happy CEO as this initiative resulted in KLM's business model for european flights turning from a loss to a profit (worth ± 100 mio euro).
this initiative turned out to be a game-changer for me. many things that we have learned along the way are the foundation for my approach to innovation nowadays. it was especially inspiring to feel and see the power of such an incredible team and experience the impact of an empowering leadership style of a CEO.
this was really an exciting initiative, especially because it seemed a mission impossible. it was not an easy road, so we had to put a lot of effort into it to make it successful. flip through the booklet to look 'behind the scenes' of this initiative.
2015 - 2016:
KLM's SWAT-team creates a lot of engagement while realising millions of bottom line impact
in 2014, when pieter elbers, the new ceo was appointed at KLM, i wrote him a short email saying 'hey pieter, if you free me up, i am going to do some cool stuff for you.' and so he did.
oh my gosh, again i had created a new role, but now what?
it gave me the opportunity to create the so-called swat-team. within 18 months, we saved over 15 million euros. just by listening to employees and collaborating with them to find solutions and 'waste-bust' the heck out of it. more importantly, employee engagement and bottom-up innovation increased significantly!
leaning processes with so-called 'swat-sessions'
we leaned many processes, always by first mapping the current state to identify all bottlenecks. then, prioritized these issues and ideated on the most crucial ones. based on these new solutions, we created a future state of the process, including hands-on action plans to get there. we always finished the session with a presentation to the involved management, who committed themselves to the outcomes.
empowered & proud employees
watch this video to meet three of our "swat"-initiatives. the KLM-employees who took the lead proudly explain how and why they took ownership. #1: rick & han share their beautiful story about scrapplaza; #2: the HR team that accelerated the digitalizing of all employee files; #3: michel who introduced a digital plan board to eliminate manual planning. 
we also supported people with ideas that did not need a 2-or 3-day swat-session, but could just be implemented. employees were so proud that (finally) their ideas came to life!
there is so much more to tell about this initiative. flip through the booklet to feel the energy and get an even better impression of our approach to bottom-up innovation and boosting employee morale.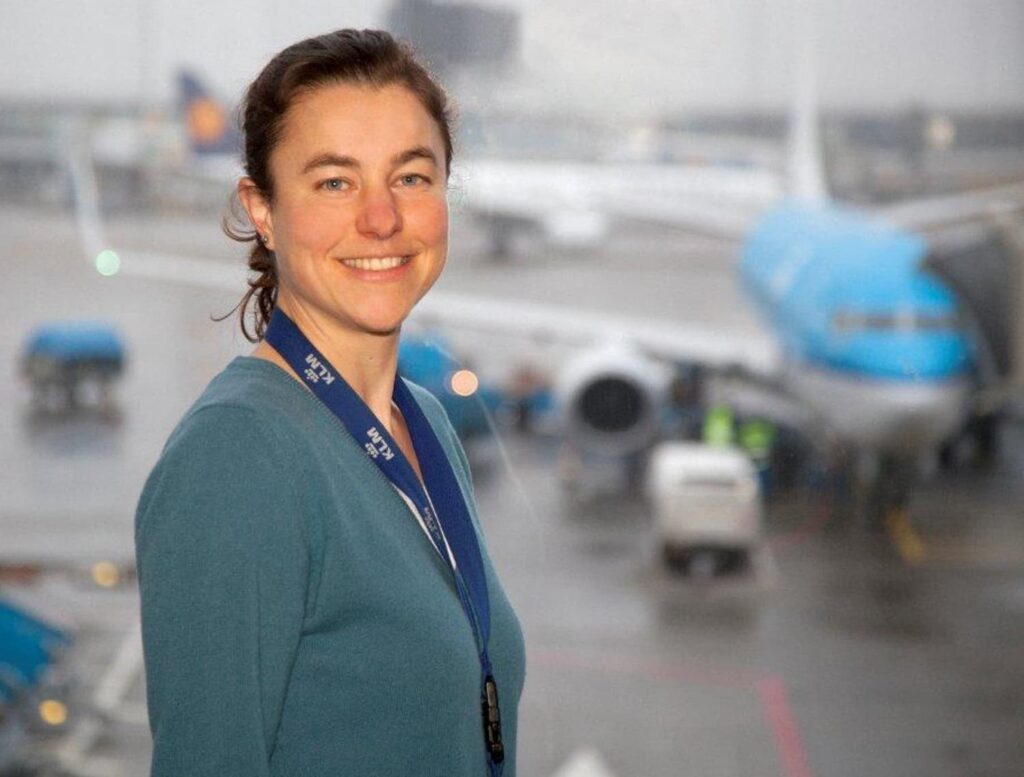 due to my corporate experience, i know what it's like to lead teams of 200+ people. i learned how to navigate large, complex organizations, innovate, get stuff done, and achieve significant results while boosting employee morale.
curious to learn more and want to explore how we can collaborate?